---
 When looking for the perfect gift idea for a construction worker, you may turn to the magnetic finger sleeve that holds onto screws and nails, an ultra-rugged outdoor coffee maker, or perhaps some air-conditioned shirts for working on hot summer days. Well, now there's the perfect small gift idea for construction workers, and especially those that control excavators with this Excavator Bucket Coffee Mug. It's called the digger mug, and it's perfect for those already in the business, or those who just love large construction machinery!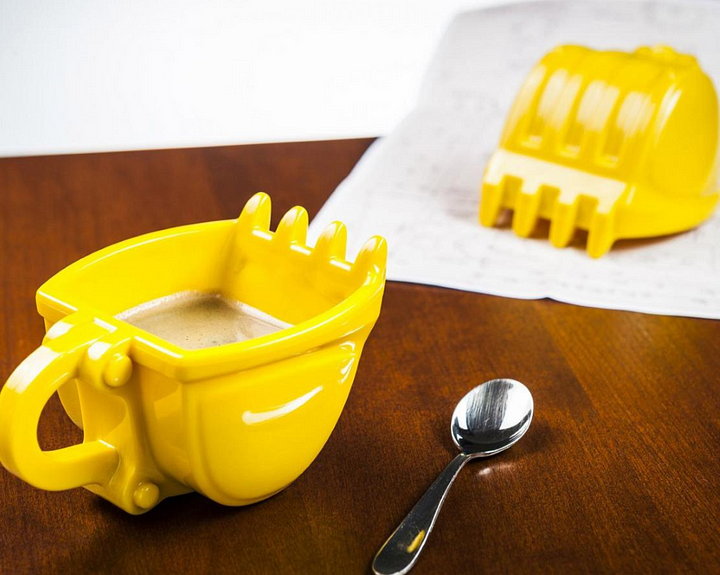 Although the digger mug is not made from ceramic-like traditional coffee mugs are, it is made from a super durable plastic that's made to last through the years and is even dishwasher safe for easy cleanup after use. It's perfect for use with tea or coffee, it can handle liquids up to 194 degrees F, can hold up to 6 oz of liquid, and is bright yellow in color (just like most excavator buckets).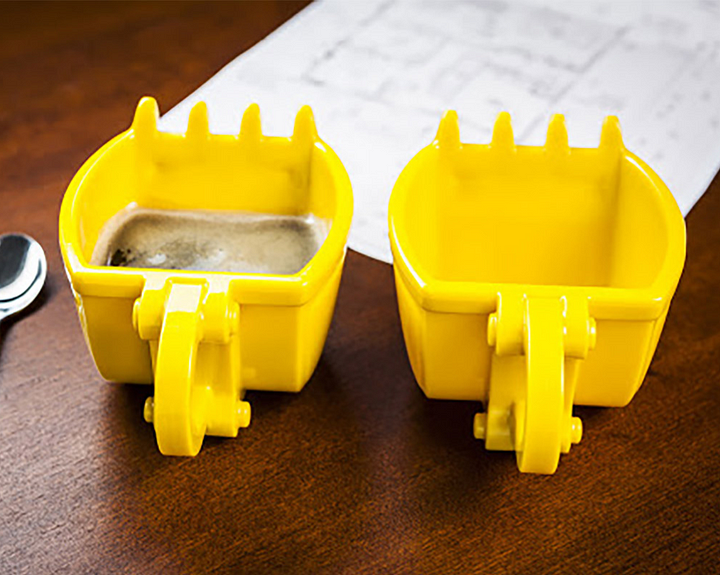 The excavator bucket coffee mug is made with slightly rounded edges so that it's easy to drink from the edge, and it's a perfect gift idea for construction machinery operators and non-operators of any age, civil engineers, little ones who love tractors and big machinery, fans of construction, and more!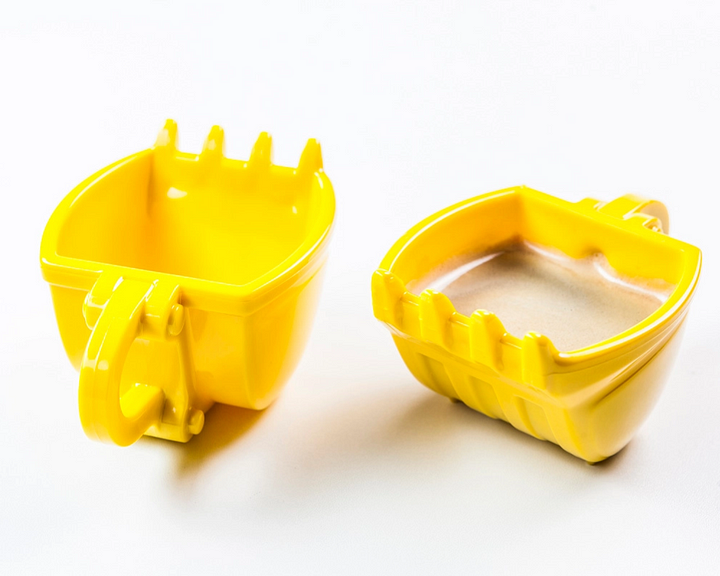 The digger- the mug is surprisingly inventive. It is a real eye-catcher, as decoration, as a gift or to drink from.
Material: plastics (PC) - built massively and durable. Unbreakable.
Weight: 150g - like a real cup made of porcelain to touch.
Liquid capacity: 180ml - This equates to a large coffee cup.
Dishwasher compliant - for easy cleaning.
Heat resistant up to 90 degrees Celsius - can be used for very hot liquids.
Suitable for operators and non-operators of any age.
Please do not use in microwave or oven!
This is a plastic item, individually made using manual labor. Therefore, not every cup will look the same.
Due to the roundness, it is easy to drink from
A multitude of thrilled customers speaks for themselves.
Reviews, proposals, and questions can always be addressed to me
here:support@yoohabit.com
Our Guarantee
YOUR SATISFACTION IS OUR GUARANTEE. We maintain the highest standards for product quality and delivery methods. If you have any issues with the delivery of your order or if it did not meet your expectations, we will replace your order or refund you! You can return any unused product 30 days after arrival for a full refund.


---
Customer Service Email
We have Email Support:support@yoohabit.com. Please contact us if you need assistance.